A 16-year-old girl reacted with horror as the bombs of Pearl Harbor unleashed a tsunami of events, including her imprisonment in a Japanese-American internment camp, even though she was an U.S. citizen. Like The Diary of Anne Frank, this memoir by Mary Matsuda Gruenewald captures the devastation of WW II on a teenage girl and her family.
Against her will, Mary Matsuda Gruenewald was evacuated with her family to an internment camp for Japanese Americans, along with 110,000 other people of Japanese ancestry living on the West Coast. She faced an indefinite sentence behind barbed wire in crowded, primitive camps. She struggled for survival and dignity, and endured psychological scarring that has lasted a lifetime.
Looking Like the Enemy is told from the heart and mind of a woman now over 80 years old who experienced the challenges and wounds of her internment at a crucial point in her development as a young adult. Gruenewald brings passion and spirit to her story, superbly capturing the emotional and psychological essence of what it was like to grow up in the midst of this profound dislocation and injustice in the United States. Few other books on this subject come close to the emotional power, raw honesty, and moral significance of this memoir.
In the end the reader is buoyed by what Mary Matsuda Gruenewald learns from her experiences and what she is able to do with her life. In 2004 she returned to Minidoka, now established as a National Monument, and describes her experiences and still vivid memories some 60 years later.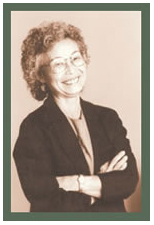 In 2005 Mary Matsuda Gruenewald celebrated her eightieth birthday as well as the publication of her first book. She began writing her story in her seventies, no longer willing to stay within what she describes as "the self-imposed barbed-wire fences built around my experiences in the camps." With her book, Gruenewald breaks her silence as a Nisei.
After her release from her last Japanese-American internment camp, Gruenewald became a registered nurse, and worked as an R.N. for more than twenty-five years. She established the Consulting Nurse Service within the Group Health Cooperative in 1971, which has become a national model for numerous health care providers. In 2002 she was a medical delegate representing seniors on behalf of Medicare Plus Choice. At that meeting she was selected along with ten other delegates to advise President George W. Bush on health care issues.
When Mary had completed her memoir in 2005, for a while she thought she was done writing books. However, in time, she was inspired to continue writing, even though she says writing does not come easily for her! Mary continued attending her weekly writing class with her teacher and mentor, Brenda Peterson, and went on to complete two more books.
In 2011, a Young Reader's edition of Mary's memoir, Looking Like the Enemy, was published by NewSage Press. Writer and editor, Maureen R. Michelson, worked closely with Mary to adapt her book for young readers just learning about World War II and the internment of Japanese Americans during the War. Mary is very interested in reaching young students with her story, impressing upon them the importance and preciousness of freedom, as well as learning from our history so we do not repeat the same mistakes.
In June 2012, Mary's third book, Becoming Mama-san: 80 Years of Wisdom, will be published by NewSage Press. Mary recently celebrated her 87th birthday in January. The idea for this book grew out of a long conversation with her editor and publisher while driving to a speaking engagement in Oregon in Spring 2008. . With enthusiastic support from her writing class, Mary worked long and hard to distill what she considers ten salient life lessons to pass on to younger generations.
Mary continues to speak to students, community groups and organizations about her experiences in Japanese-American internment camps, and the wisdom she has garnered from that life experience. It is her greatest hope that the United States will never repeat this mistake.
Her articles on internment during WW II have appeared in newspapers nationally, and she has presented radio commentaries for NPR KPLU. Gruenewald also consulted with the National Park Service during its establishment of Minidoka Internment Camp as a National Park. She speaks to many schools and community groups about her internment. Gruenewald received an Asian American Living Pioneer Award in 2003 honoring her contributions.